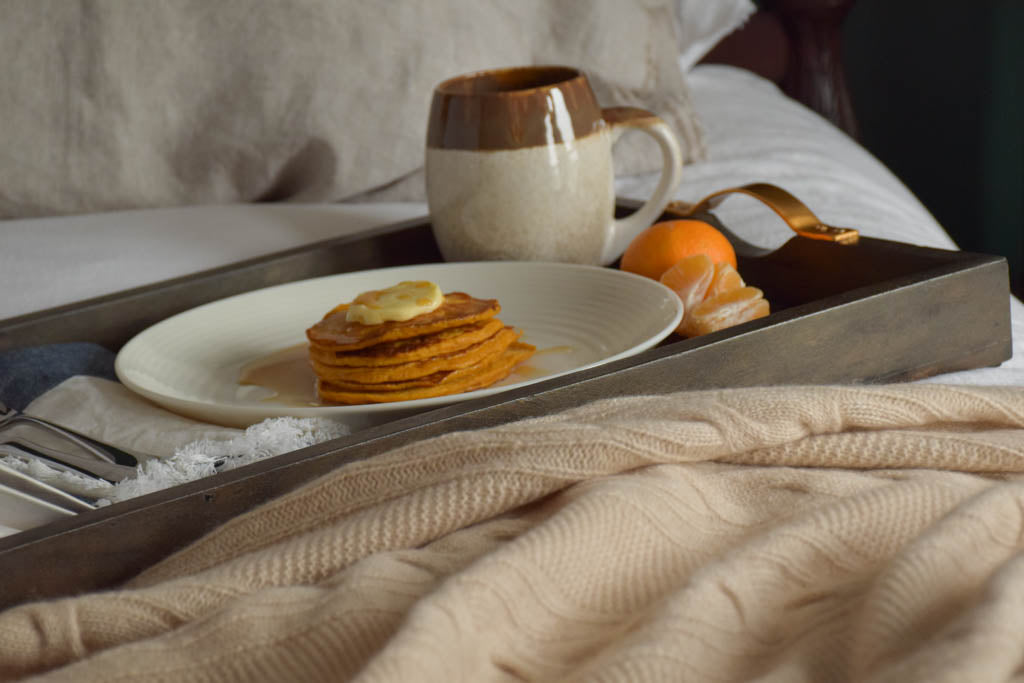 Breakfast in Bed: Giving Thanks
The sunlight is streaking through the partially tilted blinds. You can tell this even with your eyelids sealed shut chasing precious moments of sleep. There may be a cold spot in the space next to yours, but the sounds of a dripping coffee pot and a sizzling skillet put your mind at ease. If you linger a little longer wrapped up in the warmth of your pure linen sheets, maybe, just maybe, that dripping and sizzle may welcome smells of coffee… and breakfast in bed.
[photo: thewickerhouse.blogspot.com]
In our family, breakfast in bed was seldom, but special. We have memories of carrying the designated 'breakfast in bed' tray through the living room, up the stairs and down the white carpeted hallway to our parents' room, our little hands shaking to hold steady the ever-full and ever-essential orange juice and coffee. We were excited to make the special delivery to our mother.
We all have family traditions, and for us, the once-in-a-while tradition of preparing breakfast in bed for our mom is one that we were recently remembering with nostalgia. We decided we want to bring it back, and in that spirit we present the first of a series of 'Breakfast in Bed' blog posts to pay homage to our treasured family moments and recipes.
Our first post of this series features the warmth of our beautiful new cashmere throws created with a timeless cable knit design featured here in Sand Dune Brown. Our bed is tastefully draped with our pure linen duvet cover in calming cream paired with our Simply Natural pillowcases.
Now, close your eyes and imagine the smells of cinnamon, ginger, nutmeg and every nice spice that will make your Thanksgiving morning one to remember.
Pumpkin
Bold, Orange
Ripening, carving, eating
Rich in flavor
Squash
Pumpkin Pancakes
1 1/4 cups all purpose flour
2 teaspoons baking powder
1 1/4 teaspoon pumpkin pie spice
4 large eggs, separate yolks from whites
1/4 cup unsalted butter, melted
1 teaspoon vanilla extract
Start with two bowls, a large for dry ingredients and a medium for wet ingredients. Whisk the flour, sugar, baking powder, salt and pumpkin pie spice until blended in the large bowl. Whisk the milk, pumpkin, egg yolks, melted butter and vanilla until blended in the medium bowl.
Add the wet pumpkin mixture to the dry mixture in the large bowl and whisk until you have a smooth thick batter. With an electric mixer, beat egg whites in a medium bowl until stiff (but before dry peaks form). Fold the egg whites into the batter (do this slowly).
Coat a nonstick skillet with either butter or oil with heat on medium-low. Pour the batter into the skillet, crafting your perfect size pancake (some like them large, some like them 'dollar size'). You should hear a slight sizzle when the batter hits the pan. The trick here is to wait until you have bubbles forming on the surface of the pancake -- this is how you know the bottoms have browned -- and flip! The other side shouldn't need a long time to brown (1 minute tops). Repeat with remaining batter. Butter/oil the pain in between batches.
Serve with butter and maple syrup to the nearest family member still savoring the extra moments in bed.
Photography original unless otherwise credited