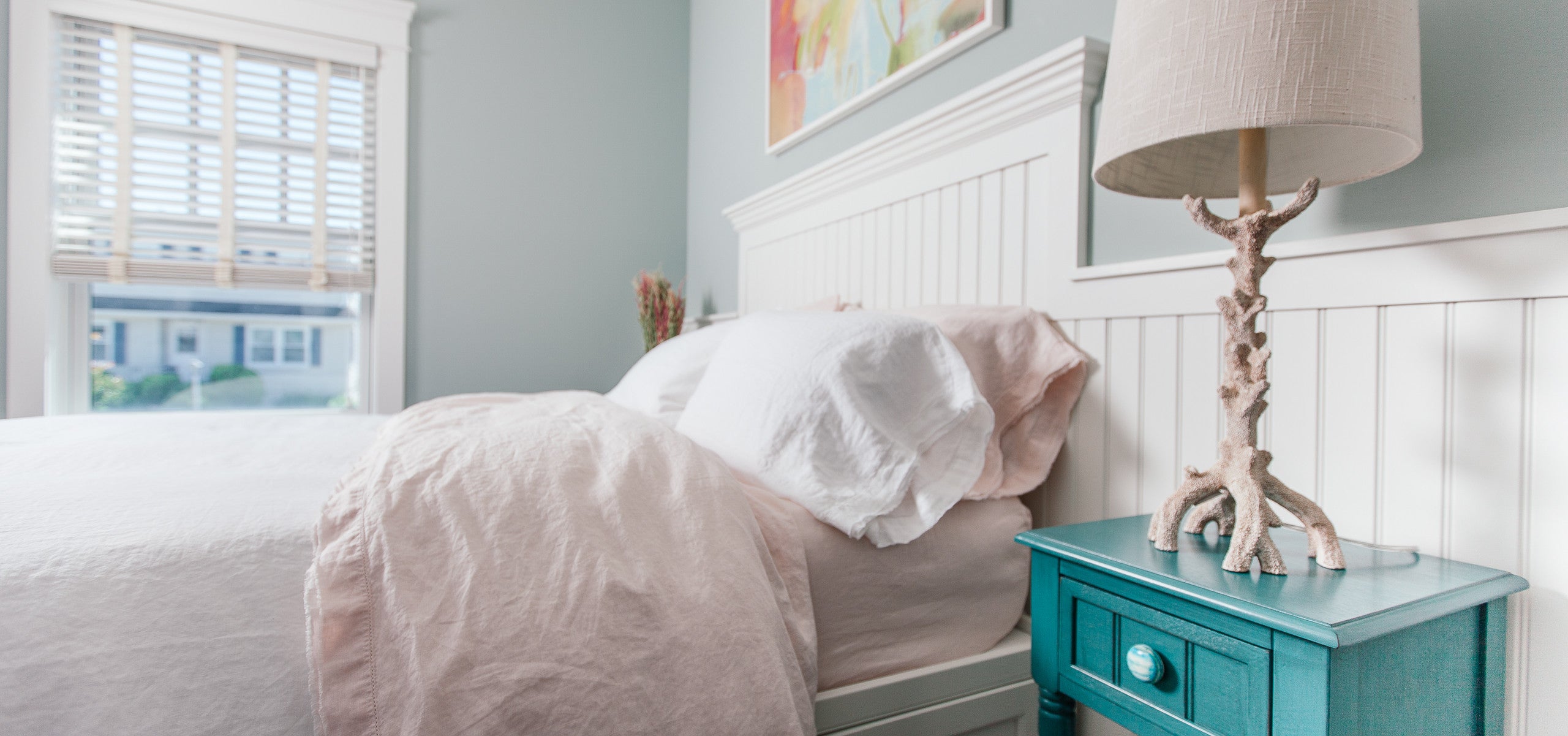 5 Tips to Freshen Up Your Bedroom for Summer
With today being the official start of summer, we've been looking for a few simple ways to spruce up our bedrooms to get ready for the season!
So we spoke with interior designer Chrissie Smith, owner of The Summer House Design Group based in the charming beach town of Stone Harbor, New Jersey, for some simple tips on updating our bedrooms for a summer of effortless style and tranquil sleep.
Let there be Light 
Longer and brighter days are one of summer's greatest gifts. To fully embrace the season's abundant natural light, be sure to give dull, dusty windows a wash inside and out so that the room is beautiful and bright. Store away any heavy drapes and replace them with fresh sheer or white window treatments to make the room look and feel light and breezy.
As Chrissie tells us, "large amounts of fabric tend to block views and make the room feel heavier and darker. Keep it light and gauzy by selecting a sheer fabric in a white or even a pale gray. This really helps to soften up a room while making it feel beachy chic."
Soothe the Senses
Fresh, colorful flowers are bountiful in the summertime and are a great way to make your room look gorgeous and smell delightful.
"It never hurts to bring a little of the outside in and I am a big fan of all white floral displays to make a room feel bright and spa-like. Other natural materials like large shells or chunks of coral also add a natural texture to a space without disrupting the palette." 
Chrissie also says "a diffuser of essential oils is another great way to welcome guests to any home as the scents are subtle, natural and therapeutic."
Photo courtesy of StoneGable
Spruce Up Accessories
Before updating with any new accessories, make your room feel instantly fresher by removing any clutter and doing a deep clean. Put away anything that makes the room feel warm, like thick blankets.
"I actually spring clean for the summer season by swapping heavier rugs for lighter, natural woven styles. Also, by swapping out a few key accessories, you can really lighten up an entire space. One quick and easy way is by adding some throw pillows in fun colors and a light, breezy throw blanket." Or why not find a simple white-washed wicker basket to put near your bed and fill with summer reading books?
Choose a Soft Color Palette
Whether you're throwing a whole new fresh coat of paint on the walls or simply updating your bedding, think about sticking to a light color palette. 
"Nothing beats a clean white paint, but stay away from whites that are too stark as they can come off looking severe. Usually a shade off of white will do the trick". If you want neutral other than white, Chrissie tells us "a palette of icy blue is a great way to bring a light, fresh color to your room without darkening it in any way."
When it comes to bedding, you can't go wrong with all fresh white sheets and duvet, Saphyr's most popular color. Mixing fresh white with a summery color can also be a refreshing look for the season, like with Saphyr's blissful blue, which evokes the summer sky and ocean, or with peaceful pink, which is reminiscent of corals and starfish.
Update your Bedding
The bed is typically the first thing you notice when you walk in a bedroom, so no matter how great the rest of the room looks, if the bedding is drab the whole room is a bust.
"Linen is a great option for bedding in the summer as it sleeps cool which is great on those muggy nights, and it has a very casual 'just washed and hung on the line' feel to it." Pure linen is one of the world's most breathable natural fabrics, which means it keeps you dry, cool and comfortable on even the hottest nights.
So there you have it! Making even just a couple simple, seasonal updates in your bedroom can help create an entirely fresh summer look and feel. Happy summer!