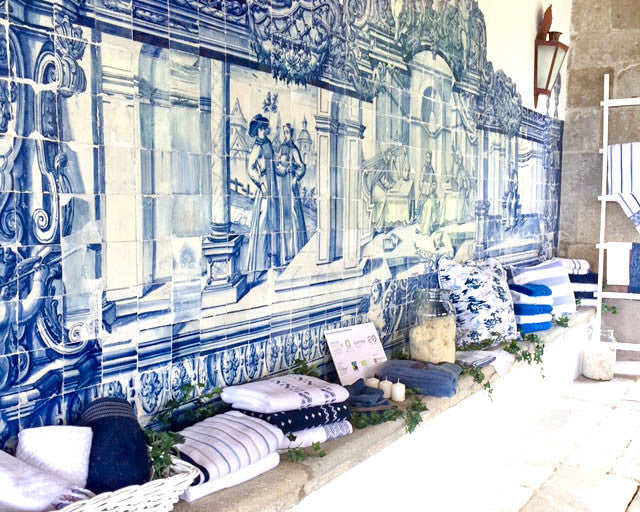 Trend Report: Guimarães Home Fashion Week 2017
Greetings from Guimarães Home Fashion Week in Portugal! Over the past couple days we've been exploring new design ideas for Saphyr. It's been fun and inspiring to meet with a number of talented, passionate, and creative Portuguese textile producers who distinguish this country for its quality and craftsmanship in home fashions.
Never have we been to a trade show in such a stunning setting! And we have been to a lot of trade shows! Just take a look at this backdrop:
MoreTextile Group
Portugal has always been known for exceptional quality bedding in the finest cotton yarns. From percale to sateen to luxurious jacquards and damasks, this outstanding quality is forever classic and always a desired luxury.
In addition to being inspired by such quality classics, one of the most exciting parts about attending shows like this is to get a glimpse into upcoming trends.
Here are the top five home fashions highlights that we spotted on our trip: 
The number one trend in bedding is Relaxed! No doubt pure linen bedding is on the rise…and new developments in cotton/linen blends are very promising. We asked a major cotton textile manufacturer for their opinion on the top two future developments and trends. The answer came quickly: Linen and Cotton/Linen blends. 
Special Finishing Techniques such as 'garment', 'stone', and 'soft' washing continue to be a major focus on natural fibers, especially with pure linen and cotton. The ultimate result is a luxurious yet relaxed fabric. There are superb developments being made in traditional cotton weaves to achieve this effect. Imagine cotton percale and cotton sateen sheets taken to a new level of comfort—percale in a soft wash maintaining a crisp feel with natural subtle wrinkles, or the luxury of sateen with a smooth suede-like touch.
When it comes to natural fiber blankets and throws, Soft Texture rules! The waffle weave is prevalent, and while not new, will continue being popular in throw blankets, robes and towels. It is also being integrated with various jacquard designs, resulting in more creative weaves.
Apertex
Trims, trims and more trims! Sometimes multi trims layered in one piece. Trims run the gamut with crochet, ruffles gathered tight or loose, frayed edges, tassels, piping and cords. In apparel, adding jewelry or a scarf is often the 'icing on the cake' that completes the look. Similarly, in home fashion the message is clear: even the traditional hem needs more detail.
Adalberto Estampados: Gamanatura
And then there is Color! Blue is a time-tested favorite for bedrooms, and one particular shade that's popping up more is Indigo. Home fashion has always followed trends in apparel, and proof of this was evident in 'garment' dyed and washed indigo from bed sheets to towels, robes, blankets and throws. This creates a softer shade that shows a variance of faded blues within one piece. A worn look that speaks comfort. To compliment the indigo are sophisticated mid-tones that have also been washed to impart a softer shade and feel.
CrisHome
Soft Pastels
were another prevalent color story. Many Portuguese manufacturers complimented our 
Saphyr pure linen
 shades as a perfect color palette for the bedroom!
 Comfort & Innovations
We had some fabulous finds and can't wait to introduce you to them in our upcoming collections!